A dedicated team focused on providing adaptations to help private homeowners maintain their confidence and independence within their own home.
Specialist Home Adaptations
Quality Home Adaptations
At GB Home Adaptations we provide quality home adaptations to help you feel comfortable and independent in your own home.
We have considerable experience working with private and residential customers, housing associations and local councils delivering a variety of adaptations enabling our customers to maintain their independence.
A home adaptation is a real chance to invest in your comfort and independence with a wide range of quality adaptations, professionally installed to seamlessly blend into your home.
Get in touch to find out how we can help with your Home Adaptation
Full Wetroom Installation
Conversions & Exstensions
Mobility Doors & Entrance Adaptations
Specialist Home Adaptations
Disabled Facilities Grant
Occupational Therapist Assessment
Frequently Asked Questions
Make life easier with Home Adaptations
For many of us ill health, disability, mobility problems or simply the way our homes are designed can mean we need to make adaptations sooner or later. They make life easier and enable us to do the things we need to do with dignity and independence.
Home Adaptations with the greatest benefit
Whatever home adaptation you need and wherever you need it, GB Home Adaptations can offer a comprehensive service with the complete range of trade professionals you need. Whether you require relatively small adaptations or wish to undertake larger projects, it is important to get it right first time, to know exactly what is available and where best to place them in your home for the greatest benefit.
Approved Home Adaptations installer
Choosing an approved service with a good local reputation is also important. We source many of our fixtures, fittings and materials locally from companies who, in turn offer discounts for local clients in Herefordshire. Those are savings we pass on to our customers, ensuring that your adaptations are made to last and giving you the peace of mind and the confidence to trust them, without spending more than you need to.
Full Wet Rooms
A wet room is a safe and accessible option when using a bathroom becomes a challenge; it can also be a very good idea when you need to future-proof your home.
Wet rooms are designed to make personal care much easier, with sealed walls and sealed anti-slip floors.
If you are converting an old bathroom then often the same drainage points can be utilised for a bespoke wet room that is perfectly tailored to your needs with as little disruption as possible.
A range of wet room options to consider
When you start to think about wet room installation, the range of options to consider can be overwhelming, they can also vary according to your individual needs.
Wet rooms can range from basic, functional spaces to high end luxury rooms that fit perfectly to the style you want.
Planning your wetroom will include aspects such as raised height toilets, wall-mounted dryers, specialised sinks and lever taps, shower screens, enclosures and seating. Then there is flooring and wall panels.
A single wet room solution
All these things combined can be a lot to consider and getting them right, first time is important. At GB Home Adaptations, our strength is our ability to offer one, single solution for all the different aspects of your wet room installation.
If you need an adapted bathroom, access shower or wetroom perfectly tailored to you and your needs, get in touch today.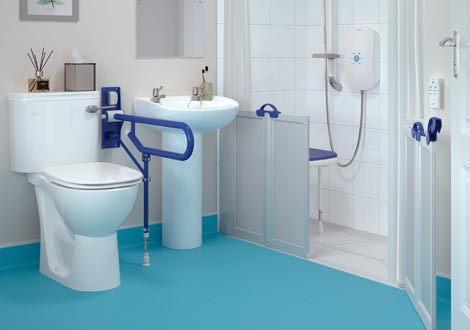 Key Benefits of a Wet Room
A wet room can future proof your home
Wet rooms offer greater safety
Having a wet room can add value to your property
Wet rooms provide a long-lasting solution
Wet rooms are space-saving and easy to clean
Be creative with your wet room design and aesthetics
Adapted Kitchens
Kitchens and food preparation areas can be some of the most difficult and often hazardous rooms to navigate for those living with disabilities and mobility impairment.
An adapted kitchen can solve those problems, creating a safer space, greater independence and happier, more creative people.
Modern kitchen adaptations can solve a massive range of issues and concerns. Rise and fall cookers and sinks for example, allow for easy access for food preparation, adapted counters and cabinetry can also put everything to hand when needed.
At GB Home Adaptations we can also install adjusted cupboards to enable wheelchair access. We can even update counters and cupboards as a general service for every kitchen, no matter the size, style or layout.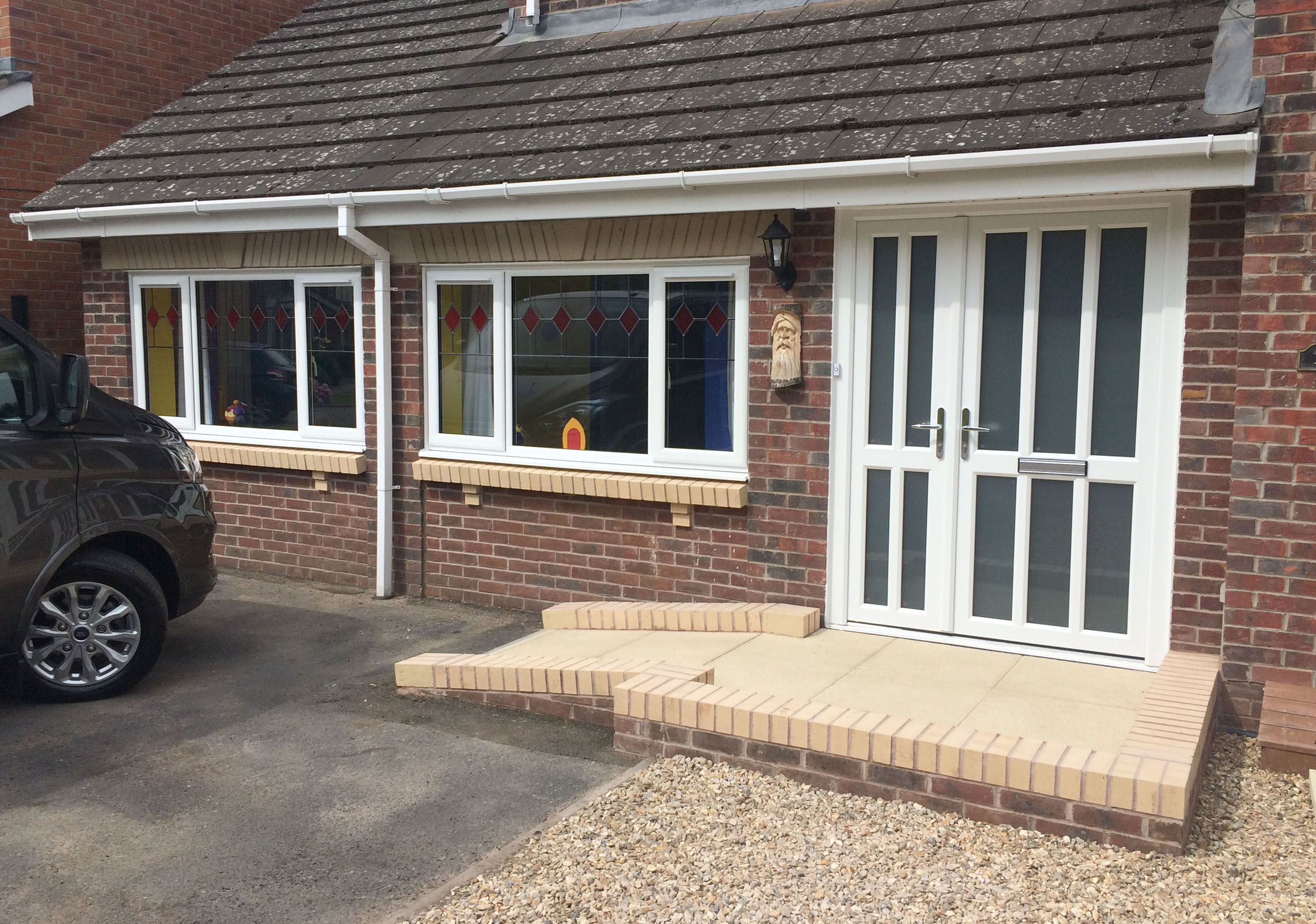 Ground Floor Extensions & Garage Conversions
Ground floor and garage conversions have the potential to be life-changing for those with mobility problems.
Navigating stairs, personal care and balancing the support we need with independence are all common issues faced later in life. Converting a ground floor room or garage into an extra bedroom, a wet room or an adapted bathroom can make a world of difference.
Adapting Your Home with an Extension
An extension to your property empowers you to create the space you need exactly how you want it. One of the key benefits of your extension is that it can also be created with minimal disruption to the rest of your home or property.
You might decide to create a dedicated wetroom, an extra bedroom, much easier to access than those you have upstairs or a uniquely adapted bath or shower room.
If you want to stay at home independently and make a real investment that will add value to your property, an extension can be one of the best ways to do it.
At GB Home Adaptations, we have a wealth of experience in undertaking extensions of all sizes, for all kinds of needs; get in touch to learn more.
Complete Garage Conversions
Despite being a large project, a garage conversion can make a real difference in terms of remaining in the home you love when disability or ill health makes it hard to access the upstairs areas of your home.
A garage can be converted into a bedroom, a wetroom or other space but there are a number of factors to consider such as access height and adequate space for widened doorways if wheelchair access is needed. Thought also needs to be given to services such as water or electricity and the potential need for a separate entrance.
All these things can pose a logistical challenge, however at GB Home Adaptations we have the size and the trade approved skills to undertake every aspect on your behalf.
Ramp Installation
Ramps can make it easier to enter, leave and move around the home, particularly for wheelchair users.
Threshold ramps can provide a wide range of solutions for many access problems, delivering a safe gradient for doorways and steps.
Folding access ramps can be easily handled, packed away and relocated when necessary; they are designed with durability in mind and often feature smooth corners to prevent damage to flooring or upholstery.
Channel folding ramps are designed for use by mobility scooters and are ideal for entering or exiting vehicles.
Non-Slip ramps offer a safe, strong and durable solution in areas exposed to surface water and the elements. 
Mobility ramps can be made from materials such as timber and concrete, modular options are also available to fulfil bespoke needs across a wide range of properties.
Mobility Doors & Entrance Adaptations
Adapting doorways and entrances is an important part of ensuring they are accessible and safe to navigate for everyone using them. Thanks to the range of fully accredited local tradespeople in our team, their in-depth experience and our trusted supply chains, we can fulfil any requirements.
At GB Home Adaptations we can install complete mobility door entrances to homes and properties. That can include external grab rails, low door thresholds and mobility sills, specialist ramps and automatic door openers.
Where it is needed, we can also undertake the widening of any doorway outside or in, to allow for safe and easy access.
Widening Doors to Improve Access
For a wheelchair user or individual with mobility issues to safely and comfortably navigate their home, doorways should be wider than they would normally be. This might be a problem as most doorways are narrower than the width of an average wheelchair.
Making adjustments to the width of doorways is a relatively simple job, taking less than a day in most cases; however other factors need to be taken into account.
Thinking about the angles at which the door is approached can often mean further changes are advised and accessibility, safety and compliance are all important parts of the project.
Non-slip Flooring
Non-slip flooring provides a much higher level of slip resistance in kitchens, walkways and wetrooms, places in the home where slips, trips and falls are a risk. It is durable, easy to keep clean and available in a wide range of styles to suit every budget.
At GB Home Adaptations our flooring specialists work with industry leading brands to provide safe, non-slip flooring anywhere in your home, helping our customers to enjoy safer and easier access to kitchens and walkways, lasting performance in wet environments and a range of styles and colours to suit your home perfectly.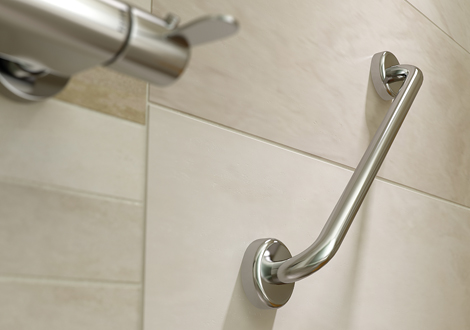 Grab Rails
Designed to help people with mobility impairments, grab rails can be fitted wherever they are needed in rooms such as bathrooms, wet rooms, bedrooms etc.
There are different types, such as heavy duty reinforced rails with fluted grips for safe gripping in wet environments and colour coding for those with visual impairments.
Plastic grab rails have a warm, ergonomic grip; reinforced with stainless steel they can be ideal for those with limited dexterity.
Available in a range of colours and varying thicknesses and wall clearances, the modular nature of many grab rails can mean they can be positioned anywhere they are needed and angled if necessary to offer a bespoke adaptation for any need.
Other styles are available to match the style and decor of your home, such as stainless steel or epoxy coated stainless steel and onyx.
Hand & Fold-up Rails
Hand rails tend to be fitted on stairs around the newel to provide additional grip when using stairs.
Fold-up rails can be folded away when not in use and are ideal for multi-user bathrooms with limited space. They can also accommodate specific height requirements and some models feature a supporting leg to give extra rigidity and stability during use.
External Grab Rails
Grab rails outside your property or home can make just as much impact as those installed inside.
Fitted around doorways, paths and even around the garden, they can make moving around outside the property safer and easier.
External grab rails can also form an important part of DDA (The Disability Discrimination Act) compliance for offices and businesses, to demonstrate the reasonable steps taken to provide access for disabled people.
Specialist Home Adaptations
From specialist anti-slip safety flooring to modular grab rails, fold-up rails and ramps designed especially for you, your property and your needs.
We also supply and install rise and fall kitchen units, stair lift systems and hoists.
GB Home Adaptations can deliver one complete solution for any specialist home adaptation project, no matter how big or how small.
Domestic Lifts
Lifts fitted in the home, going through the floor and into the upper rooms of the property. These can often offer flexibility on the location of the lift thanks to free-standing tracks eliminating the need for a load-bearing wall in their installation.
Options for domestic lifts include seated models, and lifts suitable for standard, large and even extra large wheelchairs.
The benefits of a domestic life include:
 A safe, ergonomic design

Illuminated, easy to use controls and large button remote control system

Telephone socket

audible alarms systems and sensors that stop the lift in its descent if it is obstructed

Emergency back-up systems in the event of power outage
Lifts can also vary depending on how high you need them for your property; you might require a 3m lift or 3.5m version.
Installing a domestic lift can seem like a large project, involving a survey to establish if any work is needed prior to installation, At GB Home Adaptations, our strength in larger projects is our ability to undertake every aspect of them, from the initial survey through to installation and help and advice on training, maintenance and servicing.
Get in touch to learn more about our domestic lift installation service.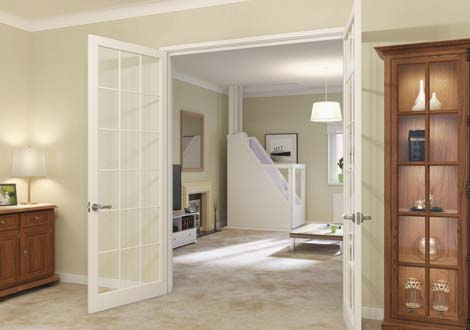 Ceiling Track Hoists
Ceiling track hoists can be the ideal solution for those with severe mobility issues. Enabling individuals to get from one point to another safely in their own homes without the need for manual handling.
Fitted to the ceiling of a bedroom, bathroom or other room in the home, they have virtually no impact on the existing furniture in the room. The key benefit over mobile hoists is their ability to lift higher or lower across a range of different floor surfaces.
Single track Hoists give freedom to the user to travel to any point along the straight length of the fitted track.  These can be ideal for transferring from wheelchairs to beds for example but can be modified to allow for movement between rooms or to different points in the same room.
H-system tracks offer complete coverage of an area, these are sometimes referred to as X, Y systems as the hoist travels on both an X & Y axis. H-system hoists offer freedom of movement around a room and cover the entire area beneath them.
For more information on ceiling hoists and for help and advice on the best one for you, get in touch.
Stairlifts
The stairs in our homes can often be one the first areas to present problems due to age, injury or mobility problems.
Stairlifts offer a cost-effective, safe and easy solution to give back independence. They prevent falls and injuries and to allow their users to stay in their own home for longer.
Stairlifts are simple and comfortable to use, by sitting, putting on a safety belt and pressing a switch to travel smoothly up and down the stairs at a gentle pace. The controls can be used by both left and right handed users. Seats can be fixed or drop-down to enable easy and unobtrusive access for others using the staircase.
They can be fitted to any type of staircase, including those with turns and curves with a bespoke rail made to match your individual staircase dimensions.
To learn more about stairlifts and how they might be able to help you, get in touch.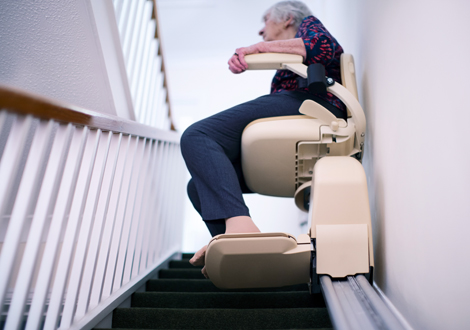 Meet our in-house Occupational Therapist
Simon has worked in Social Services where he was involved in facilitating disabled facilities grants and adapting peoples houses so they could remain at home. In the NHS, Simon ran a community rehabilitation team whose purpose was to enable people to remain at home with their families. This work has continued whilst in independent practice and for the last 12 years has developed a sound knowledge of the impact of physical, neurological and psychosocial conditions and their impact on the environments we live in.
Over the years OT has been involved in the design and adaptation of numerous homes and property developments to ensure that they meet the needs of their owners to make them were possible life-long homes. He has attended training as an access auditor and is familiar with building regulations and developments in the design of adapted environments.
Our In-House Occupational Therapist
Our In-House Occupational Therapist can offer all the help and advice you need with a detailed assessment of adaptations such as door widening, flooring, ramps and grab rails as well as wetroom or garage conversions.
Everyone looking to install disabled adaptations is unique and every home is different. There is however a range of common adaptations designed to help and support the widest possible range of people and their needs.
If you need help and advice on the range of disabled adaptations available, you can get in touch with our friendly, professional team on 01432272188 to discuss your requirements and book an Occupational Therapist Assessment.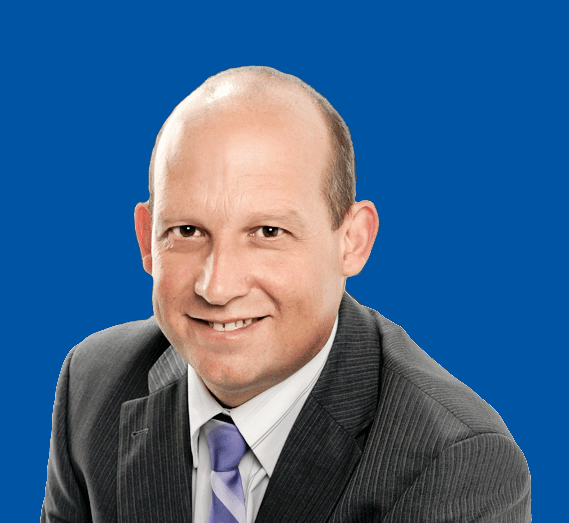 BSc (Hons) Occupational Therapy (2001)
HND in Sports Science and Disability Studies (1998)
How to apply for a Disabled Facilities Grant
If you are planning disabled adaptations for your home, costs can mount up and it is important to know if you are eligible for help and support in terms of grants and funding.
The most popular grant is the Disabled Facilities Grant which might be available to you through your local council.
For further details about the DFG and how to apply, we have compiled some useful resources here.
How to get a Home Assessment & Apply for DFG grant
Completed Disabled Facility Grant Projects
Our Customer Testimonials
We value our customers and their feedback. Here is a selection of our latest customer reviews:
"Excellent firm, excellent workers. Always obliging, nothing was a problem, all very helpful. Stuart, particularly, was a lovely chap. I..."Mrs G. in Usk
"Absolutely brilliant, outstanding. I'd definitely recommend the company to anyone."Mrs G. from Bromyard
Have you worked with GB Electrical & Building Services Ltd?
Rate them on SayHola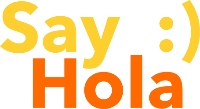 Frequently Asked Questions About Home Adaptations
At GB Electrical & Building Services we specialise in providing home adaptations for those planning for the future or looking to make life at home easier. With over 30 years of experience our dedicated team can deliver everything you need for the complete home adaptations package.
We offer help and advice on planning and funding your home adaptations and providing the occupational therapy assessments and reports to ensure you get exactly what you need. We can then provide the multi-skilled trade professionals who will work together to make it a reality.
If you are thinking about home adaptations, here are some of the most frequently asked questions we come across.
Frequently Asked Questions About Adapted Bathrooms
If you are thinking about bathroom adaptation, here are some of the most frequently asked questions we answer:
How much does a wet room cost UK?
The cost of a wet room in the UK depends on factors such as personal preference and the types and finish of materials you want. Typically they cost around £6-7K but a more standard wet room, such as those fitted in council and housing association properties can be fitted for under £5K.
How do I make my bathroom accessible?
These are the most common adaptations to 'future proof' a bathroom with accessibility in mind:
Replace the bath with a level shower wet room
Install a raised height toilet
Install lever taps to make them easier to use
Install a thermostatically controlled shower
Fit grab rails at appropriate places in the bathroom
Widen doorways to allow for wheelchair access
Do I need planning permission for a wet room?
Nine times out of ten, planning permission for a wet room is not required. However if you are converting a garage or bedroom you may need to secure Building Control approval to ensure your plans are compliant with building regulations.
Funding options for disabled grants for home improvements
Disabled Facilities Grant is a popular means-tested funding option that has helped many people.
For those who might not be eligible though, there may be alternative funding options provided by local councils, charitable organisations and other companies.
Can I convert my garage into a wet room?
Yes, any room attached to a property can potentially be converted into a wet room. It is also possible to convert box rooms or spare bedrooms if necessary.
What is an adapted bath?
An adapted bath is a bath with special features. Often they have a sealed door to allow the user to walk in, this can only be done when the bath is empty which can mean sitting, cold and waiting while it fills, then waiting again for it to empty afterwards.
Lower- height baths are another common type of adapted bath which can be beneficial for people with very specific needs. They may look very attractive but can be costly and have no benefit over conventional baths for many people.
Baths adapted with lighting and speakers are also available which can be well suited for children or users with sensory needs.
Adapted baths generally cost around £8-10K
Are wet rooms a good idea?
Yes, we always recommend a wet room over options such as adapted baths because they can 'future-proof' your home in a much more reassuring way should circumstances change in the future.
Wet rooms provide consistently safe, straight forward access even if the user's condition deteriorates over time and they represent the best long-term value for money.
What is the difference between a wet room and a shower room?
A wet room has a completely uniform, sealed, level surface, without any changes in elevation such as steps, lips or trip hazards. In a shower room, there is a need to actually enter the shower and stand or sit within the shower tray. This tray can be 1-6 inches off the floor.
Frequently Asked Questions About The Disabled Facilities Grant
What is a Disabled Facilities Grant (DFG)?
The DFG pays for essential home adaptations which can give disabled people more independence within their own homes by providing access to essential facilities within the home. The main adaptations faciliate access to the bathroom, bedroom, living room, kitchen as well as access in and out of the property.
If you want to make an adaptation to your home you may be eligible for financial support from your local council.
Is a Disabled Facilities Grant (DFG) means tested?
Yes, the DFG is means tested which takes into account your savings and income. The grant has been put in place to help those that financially need help to cover the cost of the adaptations for a disabled person. The value of the home will not be taken into account nor will the outgoings of the applicant.
Disabled Facilities Grant (DFG) application
For more information on how to apply contact your local council. If you are unsure what district you come under visit this site and put your postcode in:
www.gov.uk/apply-disabled-facilities-grant.
Can a Landlord apply for a Disabilities Facilities Grant (DFG)?
Yes, if your tenant has a disability it is possible for the Landlord to apply for a DFG on their behalf.
Do you have to pay back a Disabled Facilities Grant (DFG)?
A grant repayment charge may also be placed on the property to recoup some of the grant when the property is sold. This is a matter for each council to decide.This is to ensure that the candidate does not financially benefit from taxpayer's money due to an adaptation adding value to their property.
Is there an age limit to the Disabled Facilities Grant (DFG)?
Anyone can apply for a DFG grant. It is means tested for adults not children. The most common adaptations are to bathrooms, stairlifts and step access. Just over half of the DFG's are for adaptations to homes of older people.
What is the Disabled Facilities Grant (DFG) criteria?
You or someone within your household must have a disability. The Council needs to be happy that it is reasonable and practical to carry out the relevant works within the property. For more information: www.gov.uk/disabled-facilities-grants/eligibility.
Who can apply for a Disabled Facilities Grant (DFG)?
This is a mandatory grant that anyone who meets the criteria is eligible to apply for. You can apply for a grant if you or someone you live with is disabled. If you are a tenant in a rented property you can apply for a grant directly or your landlord can apply on your behalf. Permission will need to be sought from your Landlord that they are happy for the alterations to be made.
How long does it take to get a Disabled Facilities Grant (DFG)?
There is no set timescale however, you will need to be aware that there maybe a waiting list. All works covered by a mandatory DFG must be completed within 12 months of the grant being approved.
How much is a Disabled Facilities Grant (DFG) within the UK?
The DFG for England is currently up to £30,000
The DFG for Wales is currently up to £36,000
The DFG for N. Ireland is currently up to £25,000
The average DFG grant is around £6,500. Local councils do have the discretion to provide extra funds for adapations which cost more that the DFG limit. This may be either a grant or a loan. Sometimes councils pay for adaptations which cost significantly more that the DFG £30,000 limit. This is particularly the case for heavily disabled children where the adaptation would enable the parents to care for the child and the alternative care costs in special institutes would be extremely high.
What are my options if I am not eligible for a Disabled Facilities Grant (DFG)?
If you fail to meet the criteria for a DFG grant here are some of the options:
Disability-grants.org – A range of information on the help that might be available from charities and trusts can be accessed through their site with dedicated resources for disabled adults and the elderly.
The SSAFA A charity dedicated to supporting veterans of the armed forces and their families, they can provide financial support and advice for those living with physical impairment
Turn2us.org.uk A not for profit site where you can search for grants for disability adaptations in Herefordshire, by entering your postcode
Frequently Asked Questions About Occupational Therapist Assessment
What is an Occupational Therapist?
An Occupational Therapist is someone who helps assess and improve your abilitiy to do everyday tasks if you are having difficulty with them..
How to find a private Occupational Therapist?
At GB Electrical and Building Services we offer a private Occupational Therapist through our affiliate therapist: info@gbhereford.co.uk
You can also look for an independent private Occupational Therapist: rcotss-ip.org.uk/find.
How do you get an Occupational Therapist Assessment?
You can enquire about getting an assessment with an Occupational Therapist through your local social services. It is also possible to search for a private Occupational Therapist in the independent practice directory. Or you can get in touch with GB Electrical and Building Services who will put you touch with their affiliated Occupational Therapist.
Are Occupational Therapists required to be registered?
Occupational Therapists have to be registered with the Health and Care Professions Council in order to use the title and be employed as an Occupational Therapist.
What does an Occupational Therapist report cover?
Occupational Therapists help individuals to adapt to changes in their everyday life and over come practical problems. From the assessment they are able to provide advice on how daily tasks can be done differently or by recommending equipment or alterations to your home.
What do Occupational Therapists help with?
Occupational Therapists are healthcare professions who specialise in helping people go through physical changes and help them find ways to resume or maintain their independence in their jobs, social activities, mobility and caring for themselves within their own homes.
How to get a free Occupational Therapist Assessment?
At GB Electrical & Building Services we are happy to absorb the cost of the Occupational Therapist report which has been assembled by our affiliated Occupational Therapist when the wet room build has been confirmed with us.
Frequently Asked Questions About Home Adaptations
If you are thinking about home adaptations, here are some of the most frequently asked questions we come across.
What are home adaptations?
Home adaptations relate to the changes you can make to your home to improve independence and to make life easier and safer to move around and do everyday tasks. Local authorities offer assessments for your home and recommendations about the changes that might help; these local council assessments are free.
How can adaptations help you live at home?
Making changes to your home can make a real difference in helping you to stay there for longer, living as independently as possible with peace of mind and dignity. Even minor adaptations can make a big difference. There are a wide range of home adaptations on the market to help you continue living safely at home. Advice and support is available to help you get the right ones for you along with information regarding funding to help with costs.
Should you convert your garage into a bathroom?
Converting your garage into a bathroom or kitchen is possible but can prove considerably more costly when compared to converting it into an additional bedroom or living room.
How much does it cost to convert the garage into a bathroom?
If you want to convert a garage into a bathroom or kitchen, you will need to factor in the cost of utilities such as water, gas and electricity.
A basic conversion will cost in the region of £10-15k, for higher specifications the cost might be £20-25k.
Garage conversions add value to a home if you create space for other rooms too, such as additional bedrooms or living spaces.
What are the different types of garage conversion rooms?
There aren't many restrictions on the types of room you can convert a garage into, examples include living rooms, utility rooms, kitchens, bathrooms, bedrooms, gyms, home offices, adapted bathrooms and even man caves or home cinemas.
Can you put a bathroom in a detached garage?
Yes, however if drainage is a problem then you might have to consider an macerator toilet. Careful thought needs to be given to the space you have available as it might affect what you can have inside your bathroom such as a shower, bathtub, toilet and sink. Consideration should also be given to the transition between hot to cold environments and the possibility of a link between the two should also be considered.
Do garage conversions require planning permission?
It is always advisable to check with your local authority, only around 10% of garage conversions will require full planning permission with the rest falling under permitted development rights. These rights ensure that internal work that doesn't enlarge existing structures can progress directly to the building regulations stage.
What do you need to know about door widening?
The process generally involves removing a small section of drywall in order to inspect the wall's interior and identify the position of wiring and other features that need to be avoided.
Light switches and electrical outlets might also need to be relocated to allow for the widening process.
It also needs to be established if the wall is load or non-load bearing remembering that internal walls can also be load bearing, a lintel would need to be installed if so.
How long does it take to widen a door?
At GB Electrical & Building Services, we would aim to complete this in 1-2 days but it can depend on factors such as how the doorway is built, stud work and whether the wall is load bearing.
How wide is the door for wheelchair access?
The recommended door width for wheelchair access is at least 800mm. Most wheelchairs measure 24-27 inches from wheel to wheel. This width allows for a wheelchair to move freely through a door.
Who pays for the Disabled Facilities Grant?
If you need large scale changes to your home to make it accessible you might be eligible for the Disabled Facilities Grant, also referred to as a DFG grant.
The DFG grant is paid by your local authority or, in the case of Northern Ireland, The Local Housing Executive.
What are grab rails?
Grab rails are a home adaptation designed to safely offer help with mobility when doing a variety of tasks around your home including the bathroom.
They are a practical and durable solution that can make a big difference to the lives of elderly or disabled users, giving them the confidence to do things they might otherwise find difficult.
Where do you find elderly grab rails?
At GB Electrical & Building Services we can provide a range of grab rails. We install several types and the AKW series 1400 is one of our most popular grab rails with its plastic, fluted covering.
We can also fit any grab rails supplied such as specialist rails for stairs. It is worth noting that we always check the strength of the walls where rails are to be fitted and will strengthen them with timber battens if needed.
Can you install handrails on stairs?
Yes, if the existing stair rail is loose in any way or not strong enough to give you confidence then it is definitely time to replace it.
The same goes for any outdoor rails, fixtures or steps. Handrails on stairs can have a big impact towards keeping people safe, especially on multi-level decks.
Are handrails safe?
If they are fitted professionally, then yes. Handrails come in a wide variety of different shapes, sizes and finishes. No matter which you need or where in your home you need to install them, GB Electrical & Building Services can help.
How far from the wall should the handrail be?
If you have a single railing on a staircase then the inside (stair side) edge must be 31.5 inches away from the wall on the opposite side. You must measure this distance from the side of the handrail closest to the wall, extending the line to the opposite wall.
What is the standard handrail height for stairs?
To meet building standard requirements, the stair railing should be mounted so that the handrail is positioned 34-38 inches above the front edge of the stair nosings (the horizontal protruding edge of the stair where foot traffic is heaviest.)
What is non slip flooring?
Typically non slip flooring is around two meters wide and can be purchased as a complete roll or cut from the roll itself. The minimum sized cut is 2x2m square. At GB Electrical & Building Services we install Altro flooring which is 2mm thick, offering excellent wear characteristics suitable for barefoot or shoe traffic.
What type of flooring should I use in a wet room?
Wet room areas such as showers and washrooms require flooring that features a textured surface and is coved up to the walls. Any seams or joints are thermo welded to completely seal the floor.
GB Electrical & Building Services recommend and fit Altro flooring.
What are disabled access door systems?
The Disability Discrimination Act (DDA) was introduced to ensure that anyone with a disability can gain easy access to any public premises. Disabled door access systems form an important part of compliance.
Disabled access door systems are an automatic door system consisting of a sliding or a swinging door. Typical features include automatic door openers or push button/fob operation.